Mark was working on a special bodied Maserati that was missing its drip rail above the side windows.
He fabricated the drip rail with brass flat stock, carefully following the contour of the steel drip rail below. Bending the trim piece into the tight u-shape and then stretching and shrinking the piece to fit the rail was a little tricky, but Mark managed to make it follow the rail exactly. This piece can now be chrome plated.
A quick project Mark worked on was a shade for this Rolls Royce.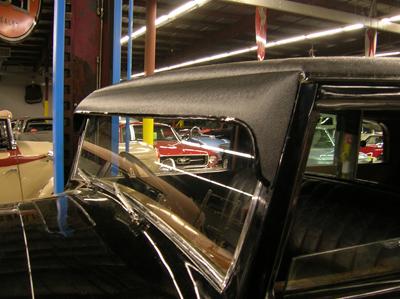 This piece was formed to fit over the windshield and covered with matching vinyl to match the rest of the roof.
Speaking of Rolls Royce panels, Mark and Steve at The Panel Shop are making fender pieces for Rolls Royces.
They use these Fiberglass bucks to guide them in making steel patch panels that fit perfectly.
If you're interested in learning more about anything you see here, feel free to send us an email.